Turks and Caicos is an archipelago of 40 low-lying coral islands in the Atlantic Ocean southeast of the Bahamas. Scuba-diving sites include a 14-mile barrier reef on Provo's north shore and a dramatic 2,134m underwater wall off Grand Turk island. The island boasts a population of over 33,098!
During the 2016-2017 World Services year, the USA Central Territory will focus our self-denial giving on building or improving 20 Salvation Army Corps facilities around the world. The Midland Division has been given the opportunity to partner with two Corps, Limbe Corps in Haiti and the Turks and Caicos Corps within the Caribbean Territory!
Haiti is a Caribbean country that hosts over 10 million people! The Salvation Army is proud to be a member of the community in Haiti. Much rebuilding has been made since the devastating earthquake in 2010 through TSA partnership with Haiti.
Take the time to learn more about Haiti and Turks and Caicos! These beautiful islands boasts vibrant colors, delicious food, loving people, and joyful cultures. Take a virtual tour through these maps or watch a short documentary. It is our hope that our brothers and sisters in Haiti and Turks and Caicos continue to be encouraged by our desire to know them deeper and to serve alongside them.
Here at DHQ we think of many ways we can raise awareness about what our division does on the field in Missouri and Southern Illinois, and overseas. We have been waiting in anticipation to learn which countries in the Caribbean Territory we'd partner with for 20 by 2017. When we found out about Haiti and Turks & Caicos, we immediately thought of sharing the great news at our employee meeting (or party!). Here are some things you can do at your Corps that will surely get your members, staff, and volunteers excited for our new divisional venture!
1) Have a visual.
Feel free to use this slideshow of a few pictures we showed on a monitor during our 20 by 2017 presentations. In addition to the slideshow, we also decorated our employee lunchroom with Caribbean flags, red, white, and blue tablecloths, and sunglasses. We also played Caribbean music as our employees entered the room. This helped us set the tone and definitely encouraged our staff! Try it out!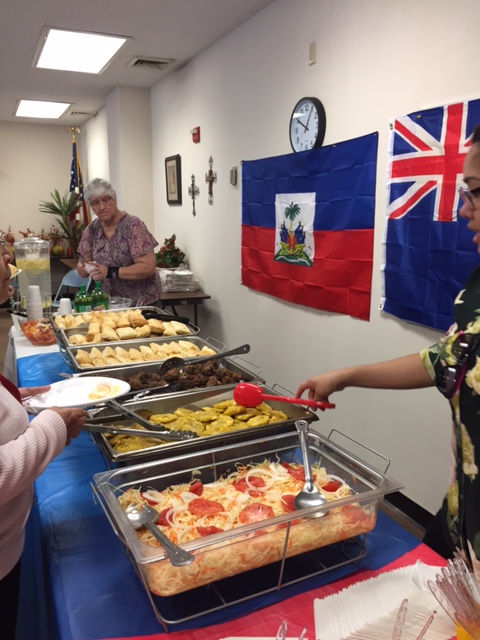 2. Consider serving food.
Food is one of the best ways to experience culture AND to fundraise! We contacted Temple Corps Officers, Major Becky and Captain Dale Simmons to prepare and serve us a Haitian meal. In exchange, DHQ donated $5.00 per person who attended the meeting. Through this initiative, Temple Corps raised a total of $375.00 towards their World Services Goal! You can do this fundraiser within your congregation or throughout your community. If you would like more information on how you can serve Caribbean food in your area, please contact the Program Department. We would be very glad (and hungry) to help you.
3. Plan an activity. Games are a great way to get people active and involved! Puzzles anyone?
This was a really fun way for Midland DHQ employees to not only practice team building skills but, also to fellowship! They also learned a lot about Haiti and Turks and Caicos!
STEP 1: Download the puzzle template and print it out (make sure the cutting-lines are on the back of each image)
STEP 2: Cut the puzzle pieces by following to the cutting-lines on the back. Don't lose any of your pieces!
STEP 3: Use a zip-lock to gather puzzle pieces. Make sure you each zip-lock back contains the right puzzle pieces for both images.
STEP 4: Separate the room into teams. For our meeting, we had 7 teams of 8.
STEP 5: Distribute one bag to each team. Each back should have at least 1 complete puzzle to solve.
STEP 6: Play some Caribbean music as teams work on putting the puzzle together.
STEP 7: Wait for the team who finishes first! Don't forget to give them a prize!
Let us know if you tried any of these activities! We would also love to hear about your creative ideas on how we can raise awareness and fundraise for our World Services!
World Mission Perspective Volume 10, Issue 1